Accommodations
Hotel reservation (Closed)
Online hotel reservation will be available from Jul 15th Aug 1st, 2016 to October 31st, 2016. Various types of accommodation are available, with the rate ranging from JPY4,100 to JPY21,750 per person per night. List of the accommodations and their locations are shown below. The number of rooms with the special discount rate for ANS2016 participants is limited at each hotel. Therefore, early hotel reservation is highly recommended.
To make a reservation, click on the "Reservation" button located on the right end of the line of your preferred hotel; then the dedicated hotel registration form will pop up. Please follow the instruction in the form. The special discount rates for ANS2016 participants shown in the list below are applicable ONLY when you make a hotel reservation through this website. For further information or help, please contact Dr. S.Kawano in Kagoshima University () or Dr. Sirinnapa (Mui) Saranwong ().
Special discount rate*1 / person / night with breakfast (including tax) (JPY)
*Swipe to the right when using smartphones
Hotels
Single bed
Double bed
(1 guest)
Double bed
(2 guests)
Twin bed
(1 guest)
Twin bed
(2 guests)
Reservation
Hotel Shiroyama
Kagoshima
(Hotel Shiroyama)
10,950
14,190
17,430
21,750
9,870
9,870
17,430
17,430
12,030
12,030
Solaria Nishitetsu
Hotel Kagoshima
(Solaria Hotel)
8,800
10,800
9,800
12,550
7,000
8,500
12,800
-
8,500
-
Hotel Urbic
Kagoshima
(Hotel URBIC)
6,200
6,700
-
-
-
-
9,800
11,300
5,750
6,500
remm Kagoshima*2
(Hotel REMM)
6,200
7,800
6,700
8,300
4,100
4,900
9,700
15,900
5,700
8,800

*1The upper rate is for November 29 (Tue) - December 2 (Fri) and the lower one for December 3 (Sat)

*2With only shower booth (no bathtub) for single bed and double bed rooms
Cancellation Policy
When cancelled on the day before occupancy: 50% of the first day accommodation charge
When cancelled on the day of occupancy: 100% of the first day accommodation charge
When a guest becomes a no-show: 100% of the first day accommodation charge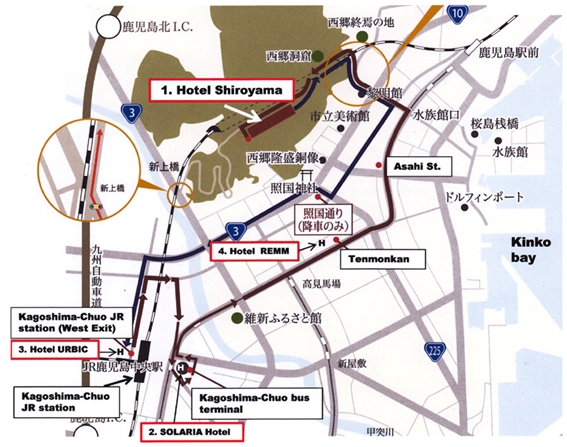 Free shuttle bus service to Hotel Shiroyama is available from a number of places in downtown.
Route map and timetable of the shuttle bus are available here.